Andrew personal
Jump to navigation
Jump to search
Activities and hobbies
Science, reading about technology old and new.
Home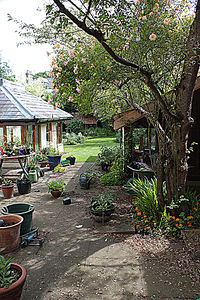 Home.
Sailing
| | |
| --- | --- |
| , Youth having a youthful time. Four times National champion. At full strength the fleet would field 70 boats for a championship. Built 12 of these 'Toy' class racers with my cousin Colin Brooks. (Toy stands for Tony's Own Yacht - designed by Tony Allen in response to a Yachting World competition (part of an IYRU competition for a single hander potentially to replace the Finn as Olympic single hander).) It was a brilliant boat - way ahead of its time. Only the sliding seat needed to be replaced by wings together with a modern stiff rig to have kept it up to date. (We used to be disappointed if we did not beat Contenders over the water. So why did it fade away. I think the problem started when builders did not keep to the minimum weight - weight kills fun. ) | Family heaven. For the summer holidays we would sail from Harwich to our favourite mooring in Cornwall. To me the Iroquois catamaran was the perfect design of its period. By current standards it was narrow, but MacAlpine Downie captured a handsome line. We had 10 years of holidays on Wildcat. We could carry a Topper and Optimist on the foredeck, big inflatable at the back. Ready for adventures in the wilds of the Helford river. |
| | |
| --- | --- |
| Optimism about the future we had a new Yare and Bure One Design built by Paul Dennis. Swift - Love it. | Swift on Wroxham broad. |
Painting
| | |
| --- | --- |
| An attempt to capture the wisdom and humour of two best friends (Geof Evans). | And Hugh Ferrier. |
Building woodwork
building barn.jpg
| | |
| --- | --- |
| How did one have the energy? Building the workshop/barn. | Getting on top of repairs to the back house extension. Good grief! |
Birth of the one and only Solitaire class sailing boat. The house window (background) had to be enlarged to get it out of the workshop (ex drawing room). Cold moulded in mahogany by Colin Brooks. My hope was to design a single handed racer that could be sailed by a family. Heavy plate, or possibly water ballast, so no capsizing. It had two planing surfaces at about 20 degrees to each other. Healed, this doubled the torque due to a person sitting on the windward side.

Perhaps more importantly, we had noticed that half the price of the Toy racing dinghy that we built went in fixtures, spars and fittings. Hopeless. The Laser got it just right. Round poles are cheaper. No rigging is cheaper. We used a three section mast. The first 4 feet heavy duty tube with a right angle tube rigidly fixed into which the boom could be slotted - no kicker needed. Just heavy duty purchases on the sail foot and outhaul. Boom could then be used as a cover support and a spar to lift the heavy centreplate out. Sail very loose sleeved onto mast, halyard inside sleeve and, probably, a very long zip to remove the sail.
Maiden voyage. Sail cobbled from bits of other sails. It went very nicely. Changes in both Colin and my plans left the next stage of the project - turn it into a plug - unfinished. My mistake. Pity. At the time I was unhappy about the 'knuckle' bow - but now I think it looks very good - slightly redolent of the Broads One Design (100 year old design).
Interests
Family.